 MENTORS CASA CINE 2023: AGNÈS JAOUI
Meet the filmmakers who will accompany the residents of CASA CINE 2023!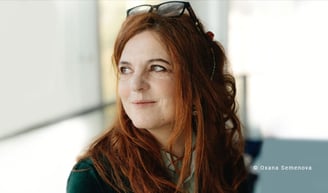 Agnès Jaoui is a French actress, screenwriter and director. She discovered her love for theater in high school and began her training as an actress at the age of 15, when she enrolled at the Cours Florent. In 1984, she attended theater classes at the Théâtre des Amandiers, directed by Patrice Chéreau. During this time, she went to the United States where she completed her studies in musical comedy.
In 1987, Agnès Jaoui got her first big break when she was offered a role in Patrice Chéreau's "Hôtel de France". Then, alongside Jean-Pierre Bacri, who became a close collaborator throughout her career, she wrote plays that later came to know greater success with their adaptations to the big screen. Among them are "Kitchen with Apartment" (1993), directed by Philippe Muyl, and "Family Resemblances" (1996), directed by Cédric Klapisch. She also adapted Alan Ayckbourn's play "Intimate Exchanges", which became the two-part film "Smoking/No Smoking" (1993), by Alain Resnais, with whom she collaborated again in "Same Old Song" (1997).
In 2000, Agnès Jaoui made her directorial debut with "The Taste of Others", which attracted 4 million viewers and was nominated for the Oscar for Best Foreign Language Film. It was followed by "Look at Me" (2004), "Let it Rain" (2008), "Under the Rainbow" (2013), and "Place Publique" (2018), all co-written with Bacri.
Jaoui's work has been critically acclaimed and has won her numerous awards, including three César Awards for Best Screenplay and one for Best Supporting Actress. But Jaoui is not just a filmmaker. In 2006, she released her first album "Canta", which won a Victoire de la Musique award, in which she shares her love for Latin music. It was followed by the albums "Dans Mon Pays" and "Nostalgias", in which she sings in four languages (Spanish, French, Hebrew and Arabic).
Throughout her career, Agnès Jaoui has had a strong political engagement with various causes. Most recently she joined the 50/50 collective, which aims to promote gender equality and diversity in the film and audiovisual industry.
Her ability to observe and portray daily life, accompanied by the use of corrosive humor to criticize social norms, has made her an emblematic figure in the industry.
From May 9 to 30, during the residency, Agnès Jaoui and Fernando Pérez will work closely with the selected artists, providing guidance and sharing their perspectives, knowledge and professional experience.
CASA CINE provides participating filmmakers a unique opportunity to learn and collaborate with internationally renowned filmmakers in the unique setting of the Château de la Napoule, during the Cannes Film Festival.