 MENTORS CASA CINE 2023: FERNANDO PÉREZ
Meet the filmmakers who will accompany the residents of CASA CINE 2023!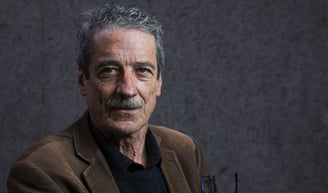 Fernando Pérez is a Cuban filmmaker, writer, and film critic. He studied Spanish Language and Literature at the University of Havana before beginning his career in film, first as a production assistant and then as assistant director to Tomas Guitiérrez Alea and Manuel Octavio Gomez.
From 1975 to 1984, he directed several documentaries that won awards at numerous festivals, and worked under Santiago Alvarez in the news department of the ICAIC. He wrote the book "Corresponsales de Guerra", which received the 1982 Casa de Las Americas Award, and also taught courses in Film Criticism and History at the University of Havana and the International Film School of San Antonio de los Baños.
In 1987, he released his first fiction feature film, "Clandestinos". However, it was in 1994, with "Madagascar", the film exploring the complexities of Cuban society in the post-revolutionary era, that Fernando Pérez received international recognition.
His films, notably "La Vida es Silbar" (1998) and "Suite Habana" (2003), are known for their lyrical beauty, meticulous mastery and unexpected melancholy. Throughout his career he has received numerous international awards, and was awarded the Premio Nacional de Cine in 2007.
In recent years, Pérez has made films that delve into the intricacies of Cuban society, such as "Madrigal," "Últimos Días en La Habana" (2016), and "Insumisa" (2018).
His most recent work, "El Mundo de Nelsito" (2023) is a melodrama with hints of black humor that depicts the dreamlike world of an autistic teenager, and had its European premiere in March of this year at the Malaga Film Festival.
From May 9 to 30, during the residency, Agnès Jaoui and Fernando Pérez will work closely with the selected artists, providing guidance and sharing their perspectives, knowledge and professional experience.
CASA CINE provides participating filmmakers a unique opportunity to learn and collaborate with internationally renowned filmmakers in the unique setting of the Château de la Napoule, during the Cannes Film Festival.